All About You – The Direct Line
You can arrange to receive personal, confidential astrological interpretations done by me, Dunnea Rae. My specialties are natal chart interpretation and relationship consultation.
Your natal chart interpretation or relationship consultation is sent to you via USPS Priority Mail within 10 business days of my receipt of your payment. You receive any/all relevant printed charts, 2 or 3 CDs, which discuss the chart(s), and a free numerology reading for each person, neatly tucked into a folder. You MUST provide me with FULL birth data for you (and the other person, if ordering a relationship consultation) consisting of name at birth, name used now, month, day, and year of your birth, time of birth (a.m. or p.m.), location of birth (not "hospital!" – city, state, country). You may e-mail me your main areas of concern or specific burning questions. In a natal interpretation, I also include current transits of the planets and look at any major trends that I think may be important. In a relationship consultation, I go over two natal charts, a composite chart, and a synastry chart. I may also consider transits of the planets in regard to the relationship. I may also consider a progressed composite chart if the relationship is a longer-term, established relationship. I look at each individual's needs and patterns in relating, what each brings to the relationship and what each receives, and the relationship as a whole. The relationship does not have to be romantic – I can also look at friends, family, or employer/employee relationships.
No one reading is exactly like another and I can only indicate a basic framework here. My intention at the onset of each personal consultation is to give the individual what they most need. You and I communicate prior to a reading so that your needs are met in the best way possible. Some people say, "I just want a general reading." Others have specific issues they wish to address. In a reading, I always touch on the basics of love, money, general health, career/vocation, and spiritual life/soul purpose.
I accept PayPal, personal check (check must clear before reading is mailed), or money order.
| | |
| --- | --- |
| Natal Chart Interpretation: $269 | Relationship Consultation: $269 |
A one-question consultation is $60. Contact me by e-mail to determine whether or not I am able to answer your question or give you any relevant insight before payment. I do not wish to take your money unless I can provide you with something in return – unless you just feel like giving me some money! 😉
I am also available for 30- or 60-minute pre-paid personal consultations via text messaging or video chat. A 30-minute consultation is $60, and a 60-minute consultation is $100.
| | |
| --- | --- |
| 30-Minute Consultation: $60 | 60-Minute Consultation: $100 |
All About You – The Most Bang for Your Buck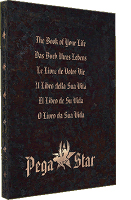 I am extremely difficult to impress when it comes to any type of computer-software-generated readings. When exploring software options that would enable me to provide you with a quality reading at an affordable price, I discovered a company, Pega Star, offering The Book of Your Life. I have had a The Book of Your Life report and have had several e-mail conversations with the company. After reading my own "Book," which I received almost immediately, as a .pdf file attachment by e-mail, I was extremely impressed and gave Pega Star's The Book of Your Life a glowing testimonial. Over the years, I have had many different kinds of readings and I can sincerely tell you that The Book of Your Life is an awesome report of about 100 pages (yes, 100!) that covers all aspects of your life using 10 (yes, 10!) methods of examining your birth data and your name. The vocational assessment of my chart was the most uncannily accurate reading I have ever had.
Presently, the price for this reading is far below actual value for all the information you will receive – $29.95! They may, in the near future, raise this price to $59, which I think is still a low, low price and an incredible value for such an impressive reading. Even confirmed reading junkies, such as myself, will receive new information and be delighted with their own "Book." You will want to order your own reading from them while the price is still so low.
What's Up?
Do you want to know how the current transiting planets may be affecting you now when it comes to love or money?
Do you want to know how compatible you are with someone romantically or financially?
You may purchase any of these computer-generated reports for $9.95 each and receive them from me within 48 hours as an e-mail attachment. Order through PayPal and provide me with name and month, day, and year of birth. Time and location of birth is preferred, but not necessary. I believe the accuracy of these reports to be the best available. These reports can give you needed insight in situations such as:
Wondering whether you should take the next step and meet someone you've been talking to that you met on a dating site?
Order a Romance Compatibility Report for $9.95



Wondering whether it is a good time to date at all or possibly meet a soul mate?
Order a Romance Transit Report for $9.95




Wondering whether money-making opportunities are coming now or if you should start a business, invest, or make a large purchase?
Order a Financial Transit Report for $9.95




Wondering whether you should loan someone money, go into business with someone, or what the money issues in your love relationship are?
Order a Financial Compatibility Report for $9.95




Everyone would like to enhance their luck, especially if they play the lottery, visit the casinos, or play any other games of chance. The planets in your natal chart indicate your luck and money potential. I know some people are definitely blessed with more than others (keep in mind, there's more to life than money), but we all have times, astrologically, when we have a winning edge. The software Lucky Days offers a specific method of determining when, exactly, you will have a winning window of time based on your exact birth data. Because this is not an area I specialize in as a personal astrologer, but I understand that some people want this kind of information, I am recommending Lucky Days as a source for you to study and possibly utilize, if you are serious about winning. Besides the software they have created to help you find your winning times, they also have other useful information on their site, including links to free astrology-related things.
Is there something else you are looking for that you don't see here? Please contact me – I may be able to help you or make a recommendation that will help you.