Runes are symbols that may look familiar to you, because many of them can be found in our alphabet. I saw my first runic symbol in the title page of The Lord of the Rings when I was very young and felt I "knew" them. I have been using them as an intuitive tool during readings for clients, much like card readers use a tarot deck, for almost 30 years.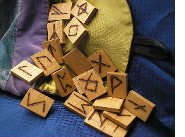 25 Minute Rune ONLY Reading
Personal sessions, by appointment, of 25 minutes by phone or Skype. Weekday, weekend, day and evening hours are available. My response time after I receive notification of an order is approximately 8 hours and most sessions are scheduled and delivered within a week of placing an order.
One 25 Minute Rune ONLY Session – $25 – BUY NOW


Rune Spell – $8 – BUY NOW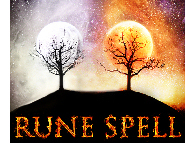 A fire spell using the runes, that I work on your behalf upon receipt of your request, and that I repeat at the next closest New or Full Moon. Most are done within three days. I burn outside, so the weather must be clear. I can only work on YOU and your energy or a person who is aware of my work and gives permission to include them in the energy work. You will receive a scanned image by email of the runes I will use.